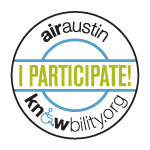 GreyhoundRescueAustin.com was designed by the Tech Amigos during the 2005 AIR Austin Accessibility Rally. Using the concepts of universal design and web standards, we have done our best to make this information usable on a variety of devices, including assistive technology, portable handheld devices and multiple platforms and browsers.
The following are some of the accessibility and usability features we are implementing:
Text and Textual Equivalents;
Cascading Style Sheets to control the Web site's style and layout;
Hypertext links that make sense when read out of context;
Consistent use of headings, lists and Web site structure;
Summarizing material or using the attribute for content that may be difficult to access;
Providing alternatives in cases where content produced by scripts, applets or plug-ins may not be accessible or supported;
Avoiding the use of frames;
Incorporating links that allow non-visual browsers to skip to Main Content on pages.
We welcome your comments and invite you to contact us if you have any problems accessing the information on this site.
For more information about accessibility and technology, please visit Knowbility.org